Written by zin
Wednesday, 29 June 2011 23:08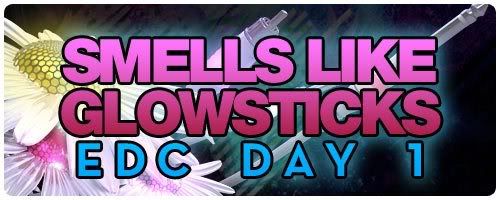 You know that nervous anticipation that built up before your very first festival? That all too familiar feeling of uncertainty about whether or not it will live up to the hype or falter according to the media? Going into this year's 15th annual edition of Insomniac's Electric Daisy Carnival, no one knew exactly what to expect. Even the most experienced festival attendee was feeling like the new kid again! I guess that's what happens when you book a new venue in a new city in a new state! Would the festival falter in a city that rarely caters to a music festival demographic? After all, many of us know how Vegoose didn't last as long as it should've when it came to town a few years ago. All these questions had many nervous about Insomniac's risk of moving to a new city.

However, I for one am glad they took that risk. Click on read more for the rest of the article!
As with previous editions of EDC in years past, we planned to leave early and get in line as soon as possible knowing that traffic and wait times could be horrendous. However, we were pleasantly surprised to find out that traffic on the I15 all the way up to the venue was little to none. We pulled into the large FREE parking lot and obtained a spot that was literally right in front of the gates. That's one major point for Insomniac.

Once we walked up to the gates, we realized that people were already lining up at the ID checks. It was about 6:58 when we entered the lines, and the ID checks opened around 7:25. We chose the furthest ID check away from the parking lot thinking it'd be the least packed, but boy were we wrong. The furthest away was also fed by adjacent parking lots on the other side of the street as well as those who still need to pick up their will call tickets. There were only two ID check tents at the main gates, but they were more than sufficient. After the initial crowd that had lined up early, there literally was NO line. After you pass ID check, you had a choice of four major gates. Once again, we made the horrible choice of choosing the furthest one away from our initial parking spot. This was the longest line out of the four that night and boy was I pissed after seeing the other three whiz on by.

However, once you get past the security check, you forget all the issues that the line had, because guess what? YOU'VE FINALLY MADE IT TO EDC VEGAS! Walking through the bleachers, you had a sense of chills crawling slowly up your back. It's as if you close your eyes and everything moved in slow motion. You're thrown into this colorful world of flashing lights, white hot pyrotechnics, and trippy performers. It's heaven on earth if one existed. From this point on, it was time to put on our adventure hats and go exploring. There was way too much eye candy going on that you didn't know WHERE to go. We decided to walk around and find the rest of the GSCers that were attending that day. Cell service was stellar when we first got in, so we were able to shoot out a few texts before it got too crazy. We've finally met up with Demo, Illusion, Rorok, and Jaredhimself.

We decided to go check out a few of the stages, and the production that went into these designs we're insane! However, it was apparent that some of the little details weren't able to be put up in time before gates open. The decorative "scrims" at the kineticFIELD and cosmicMEADOW stages were not put up yet; but even without them, the lighting and visuals were just way above par. We ended up catching the end of Christopher Lawrence's set at the circuitGROUNDS stage, and he was just tearing it up as a cloud of dust from the gravel dance floor started rising. After he ended, we headed to the heinekenDOMES to see what all the hub bub was about. Obviously, this was a 21+ area so some of our group had to wait outside. As those of us of age showed our IDs and walked right in, we were blasted with an air conditioned dome that housed a round bar that served Heineken on tap. After that dome is another dome that had many house DJs with a powerful soundsystem that rivaled those of the bigger stages. Joey Mazzola was on the proverbial wheels of steel, and he dropped many classics like Late Night Alumni's Empty Streets. Once again, it was air conditioned and both domes felt like igloos! Once we left our air conditioned heaven, we opted to check out the beginning of Dirty South's set and he was providing banger after banger as the dance floor thrived with excitement and sweat.

We then left during his set to explore the grounds some more, and we ended up riding many of the rides closest to the circuitGROUNDS stage. As we were waiting in line to get onto the "figure eight" ride (it literally had no name that was clearly visible, so we gave it our own based on the motion), I noticed it smelled like glowsticks to which I proclaimed, "It smells like mad glowsticks up in here." It was here that we realized that it's a bit sad that we all know this smell all too well. We had a bit of a laugh and that's when we found out Demo's glowsticks had started leaking. Riding rides with GSCers is an experience in of itself. It was full of laughing, smiles, and just overall great vibes. Let's not forget the moment that Rorok's bottle came up to his face for an intimate moment during these rides. Boy, did I wish I got footage of that.

After a few rides, it was back to what these festivals were originally about, the music. We split up and Rorok, my friend, and I opted to go to Richie Hawtin pres. Plastikman. This legendary artist had stellar visuals pulsating to his insane, original, minimalistic, and groovy techno tracks. I was sober, but still was enthralled by the insanity that flashed in tones of red, white, and black. It was visuality and aurality mixed in harmony at its best. When he dropped Ping Pong, I went nuts! I've been waiting for years to see this artist live and to finally hear it on such a massive sound system was amazing! During his set the first fireworks show started, and I was fighting the urge to watch the fireworks and the visuals. It was tough to decide! If my eyes could split like a chameleon, I would've done that, but sadly I'm only human. Towards the later part of his set, he decided to jump out in front of his visual screens and played a few tracks. One such track, Spastic, was welcomed with open arms by the crowd. It's one of his better known tracks that has been sampled by many other EDM artists.

Right after Plastikman, Demo and Jaredhimself decided to join us. Good thing too, as Sub Focus was just about to come on. He dominated the cosmicMEADOW stage with his range of style from drum and bass, dubstep, to just craziness. As his set lingered on, the crowd multiplied. No longer were you able to sit in the grass and watch, you must get up and join the insanity! He dropped Last Jungle, Rock It, and a brand new track called Falling Down. I will say this though; does a set this crazy really need an MC? If you're going to MC, at least come up with some original material. I've heard the same thing over and over and was just getting bored with this guy who was ruining the moment.

Overall, I was amazed by the stellar production that went into this year's Electric Daisy Carnival. Insomniac went all out and it certainly brought the vibe up from last year. There was so much room to dance and I felt secure and safe. Stay tuned for Day 2 and 3!
Read More & Discuss On Our Forums!
Last Updated on Wednesday, 29 June 2011 23:18